We were recently contacted by a business owner who has since had to liquidate their business – and this situation was caused entirely by fake reviews and a really unfortunate case of mistaken identity. Proactive action is always better than reactive – but in situations like this, everyone is vulnerable regardless of how solid their preventative strategy is. This is a scenario where quick action to get content removed is detrimental. We felt it important to share with you, if not to do anything but reiterate how reviews have tangible effects on your business, and a reputation crisis is a very real threat to businesses today. 
Lift & Load Removals is a Melbourne grown and owned family business, up until two months ago, they had been operating for decades with a client based in the tens of thousands. The business had scaled over the years and had opened up another location in New South Wales. However, in 2018 a copycat company using a very similar name to their trading name, Lift and Load Removals Pty Ltd, began operating in Brisbane.
Lift & Load Removalists Melbourne was none the wiser and at first, one or two mistaken reviews was an odd occurrence and didn't seem like much of a problem. But it wasn't long before scathing reviews started pouring in and angry callers started lighting up their phones. People would search Lift and Load Removalists and review the first one they found without paying attention to location – in fact  some people even called and booked with their copy cat company accidentally.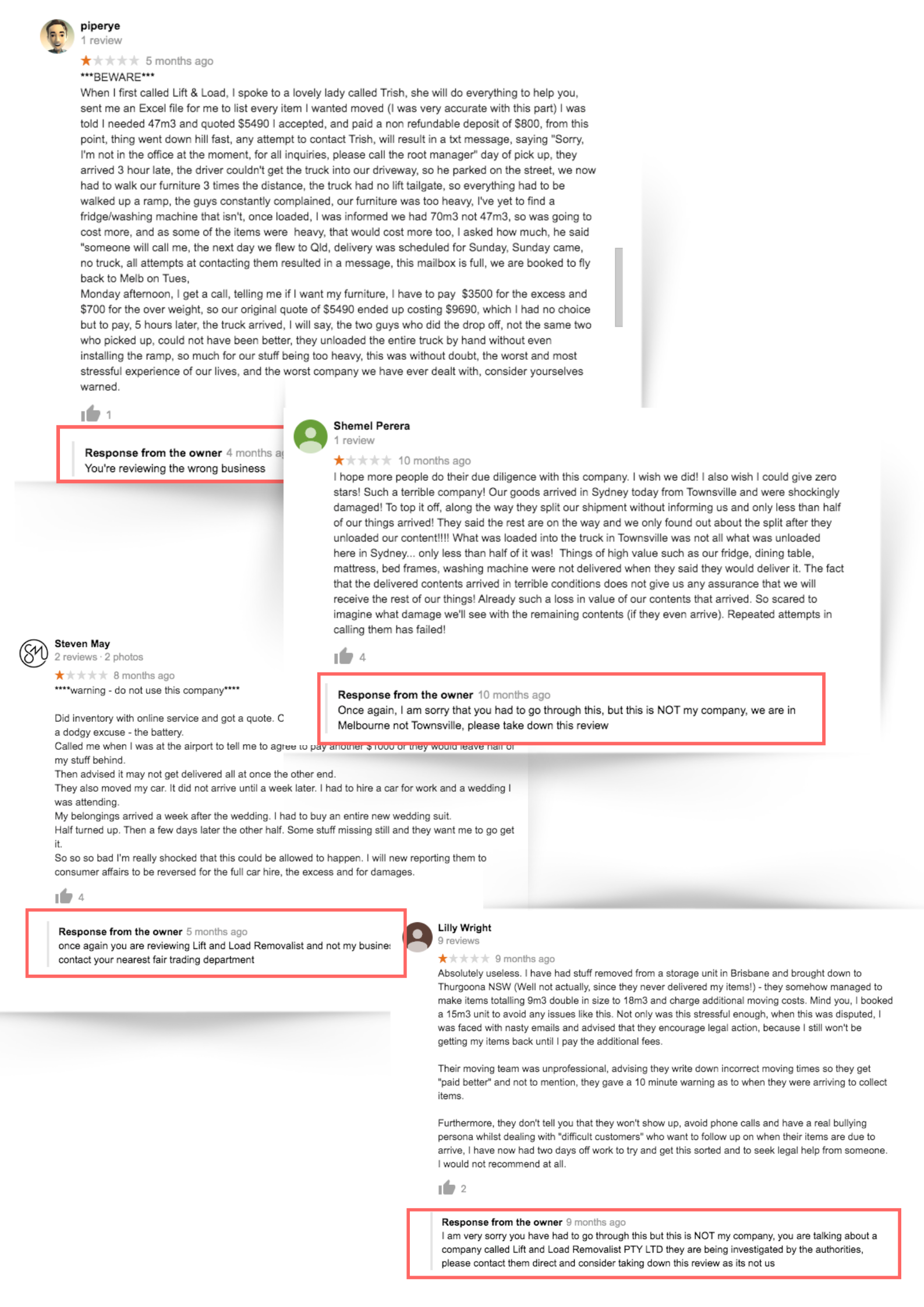 The copycat business appeared on A Current Affair Australia where they were investigated for their treatment of clients, for incidents such as holding their items hostage in storage for extra payments and destroying furniture in the process of moving. The Melbourne Lift & Load Removalists also appeared in the news segment to talk about the damage done to their business.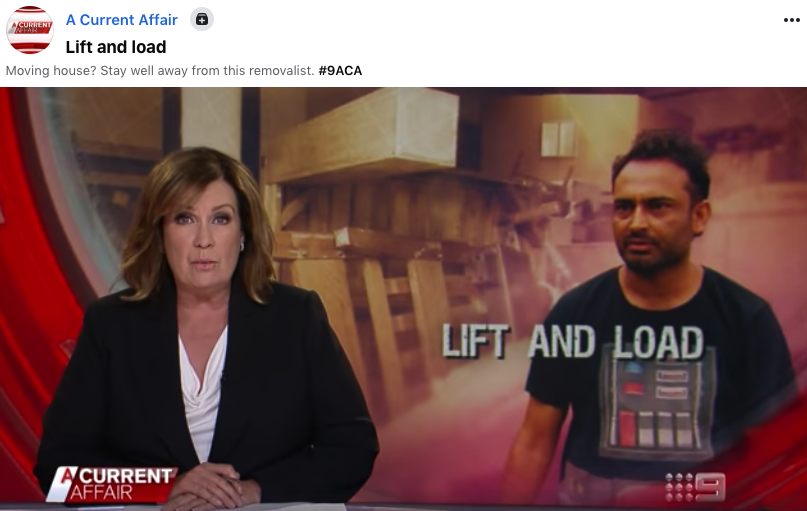 Some of the reviews on their Google My Business even show customers expressing their dismay that they had accidentally booked the wrong business without realising it. Others saw this and left reviews expressing their sympathy for the situation: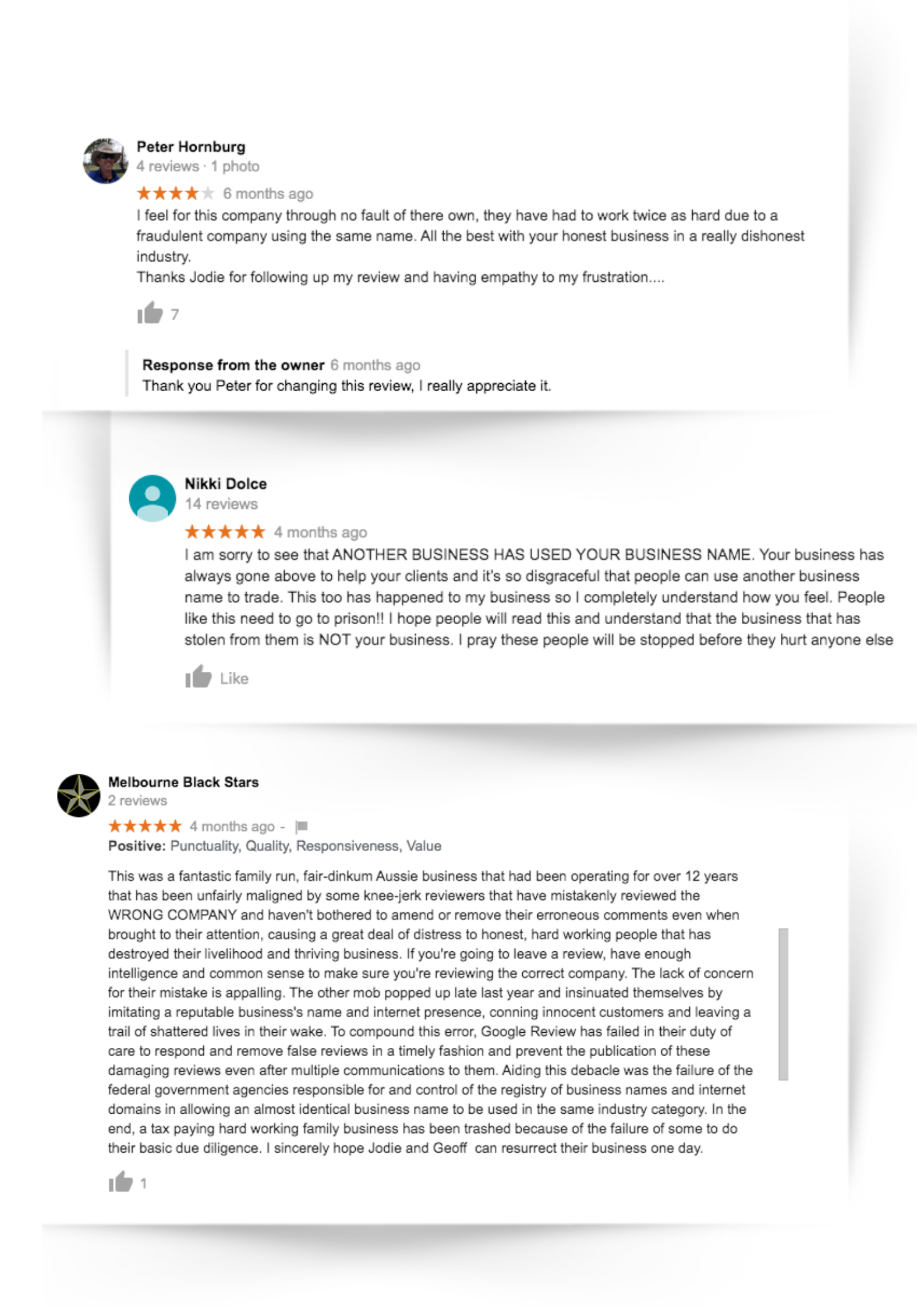 Unfortunately, this wasn't enough to undo the damage done.  The negative reviews that they ended up with were viewed over 12,589 times, costing them thousands in lost business. Perhaps more pertinent to the story, the abusive phone calls and threats to be taken to the ACCC took its toll on the business owner which eventuated in them throwing their hands up in defeat at the brand crisis they were facing. It was too late and they could no longer allocate funds to content removal or to a total re-brand. 
Here's What To Do If This Happens To You
Contact your relevant industry association immediately. Whatever type of business you run, whether service or product based, there is likely a state or national governing body that overseas your industry. Contact them for advice or guidance on the situation as it is likely that they have protocols in place to help in these situations.


Contact the review authors, but don't rely on this to fix the problem; when you reply to an author's review, they receive an email notification from Google notifying them, but very few actually change their review or acknowledge a business owners reply. They may read it – but that might be as far as it goes. People are often angry enough to leave a review but hardly find the time to alter it if it's a mistake.


Contact the copycat business – if possible – arrange for their customer service team to give you a phone number to insert into your replies so you can direct customers to the right business. It's not always guaranteed that they will be reasonable or that they will agree to this, but with both your business and the business in question rectifying the mistake publicly, it will hopefully reach the author of the review.


Engage content removal specialists

to help. Even after replying to every review, your overall star-rating and the way you appear in search results is still going to be negative, meaning, this is still costing you money. The money you spend

removing these fake reviews

will always be far less costly than the losses in potential customers. But, that in this situation, your online reputation is the asset being damaged and as something you build over time with hard-work, it is priceless and worth protecting.  


Ask your existing customers for help

– this isn't far fetched at all.  If you provide a good service and you have loyal and happy customers, tell them about the situation and encourage them to leave an honest review about your business and your service. Setup an easy portal where people can review your business – whether this be in a store physically – such as a QR Code system – or whether you do

weekly email or text campaigns to your customer database.