Yahoo Content Removal
Although information found on the internet is often untrue, web searchers often take it as the gospel truth. That's why if negative content about either you or your business ranks highly online, it's vital to remove it before it stands a chance to hurt your reputation.
False or misleading information has the potential to do irreparable damage to your online reputation. For businesses, it can affect your revenue within minutes and over prolonged periods if nothing changes. For individuals, it can affect new job opportunities and warp people's perception of you.
At Removify, we specialise in the removal of harmful content across the online world, and Yahoo is no exception. With a finely-honed collective skillset, we use our advanced strategies to help restore your reputation fast.
Get a free quote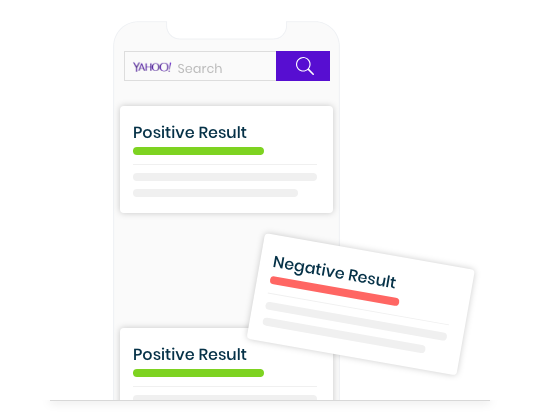 95%
Of shoppers read online reviews before making a purchase
88%
of online shoppers use reviews to guide their purchase decisions
94%
Of searchers will avoid businesses with negative reviews
De-Index Destructive Yahoo Search Results
These days, it's rare to go a day without using a search engine. It has become hard to imagine a time where consumers didn't flock to them for advice on everything. With 93% of online experiences starting with a simple internet search, businesses are highly susceptible to being affected negatively by search results pertaining to them.
If you think a negative search result doesn't easily influence searchers, you'd be mistaken. The results are shocking. It's been found four or more negative articles in search results can cost businesses 70% of potential new customers. In addition, 57% of consumers won't use a business if their rating falls below four stars, while 94% will avoid businesses with negative reviews altogether.
These statistics show the impact negative reviews, blogs and articles can have on current and potential consumers, and consequently your business revenue and representation within the online community. It may sound harsh, but there is hope. You can take back control and remove damaging content from Yahoo with Removify to restore your online representation fast.
Removify consultants are experts in search engine result removal. Our specialists know how to alter URLs to make them invisible, helping you project a more favourable public profile to consumers with several targeted strategies.
Get a free quote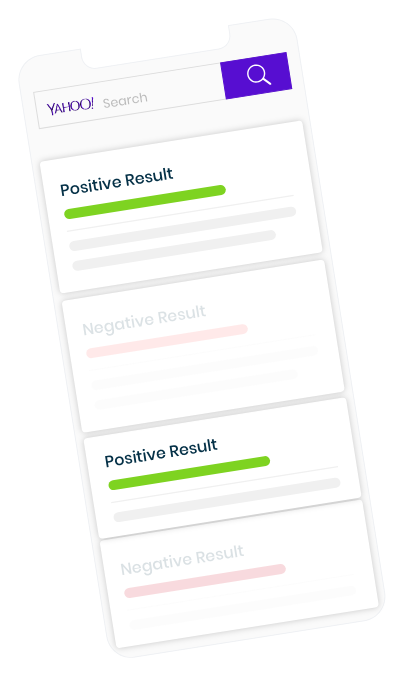 Disarm Online Trolls
Do you ever look at content on Yahoo and just know its fake? In today's digital world, harmful content comes from here, there and everywhere. Anyone can anonymously write a review without credentials, leaving your business's name in the gutter.
It can come from not only disgruntled customers and employees, but competitors too. A survey completed by the Bright Local Consumer Review found that 33% of consumers noticed a fake review in 2018, up from 25% in 2017.
With sites such as Productreview.com.au reaching 5 million users a month, it is essential to have accurate representations of your business online to prevent new customer loss, as 94% of consumers will avoid businesses with a negative review. Even if damaging content sinks further down the search result pages, it can still impact your business.
These search results can still play an active part in consumer decisions, even from beyond the first page. Eliminating damaging content with Removify will reduce both their short and long-term effects on your financial success.
Get a free quote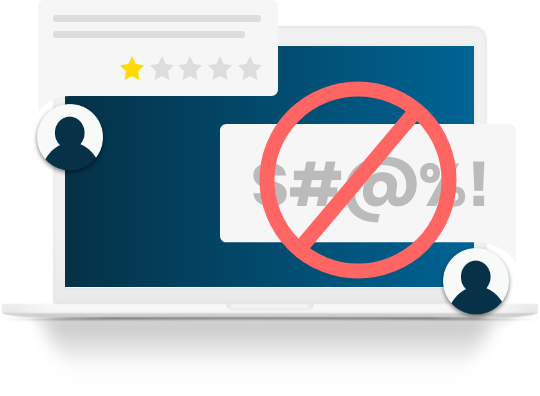 The Benefits Of Removing Content Quickly
It is immensely beneficial to remove negative content from Yahoo with speed. Otherwise, it will yield detrimental consequences for your business. Approximately 71% of people are now searching for content through their mobile phones.
This statistic is problematic. It shows that consumers can have immediate access to content regarding your business from any location, allowing consumers to be manipulated by the opinions of others quickly. Roughly 33% of consumers find the sentiment of online content impacts their decision more than anything else.
A further 40% of consumers will avoid taking additional steps with your business where negative opinions are shared. However, where positive content is displayed, 68% of consumers are likely to take actions towards using your business. These figures demonstrate the importance of making a "good first impression" in search results to potential and recurring customers.
If negative content features above positive content, your business will inevitably suffer consequences sooner rather than later. Let Removify take away this concern by eliminating damaging online content fast to present a more favourable business profile to any consumer looking for quick answers.
Get a free quote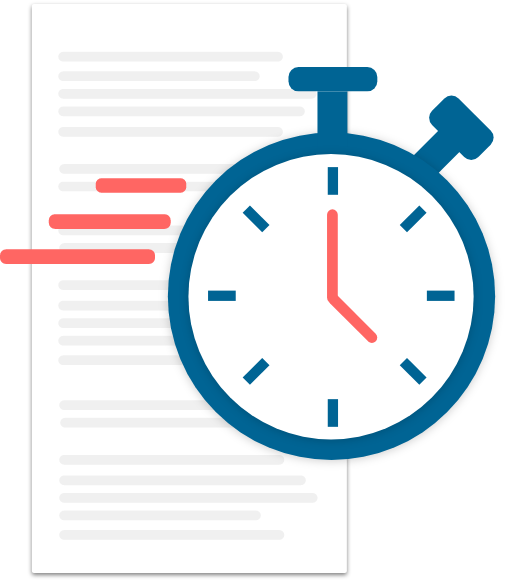 No Success? No Fee
We understand that discovering harmful content on Yahoo or anywhere else can be extremely discouraging, but you don't have to lose hope. By engaging Removify to remove negative content from Yahoo, you'll be relieved of the burden of having to tackle it on your own.
You'll also enjoy the added assurance that a team of experts are on hand to help you with bespoke advice whenever you need it. Working closely with you throughout the process, our content removal specialists keep you updated on your case every step of the way.
When you come to our team, we'll make sure to deliver your desired outcome. We are so confident in our content removal methods that if we don't successfully remove your content, you won't pay. It's the perfect solution with no risk to you!
Get a free quote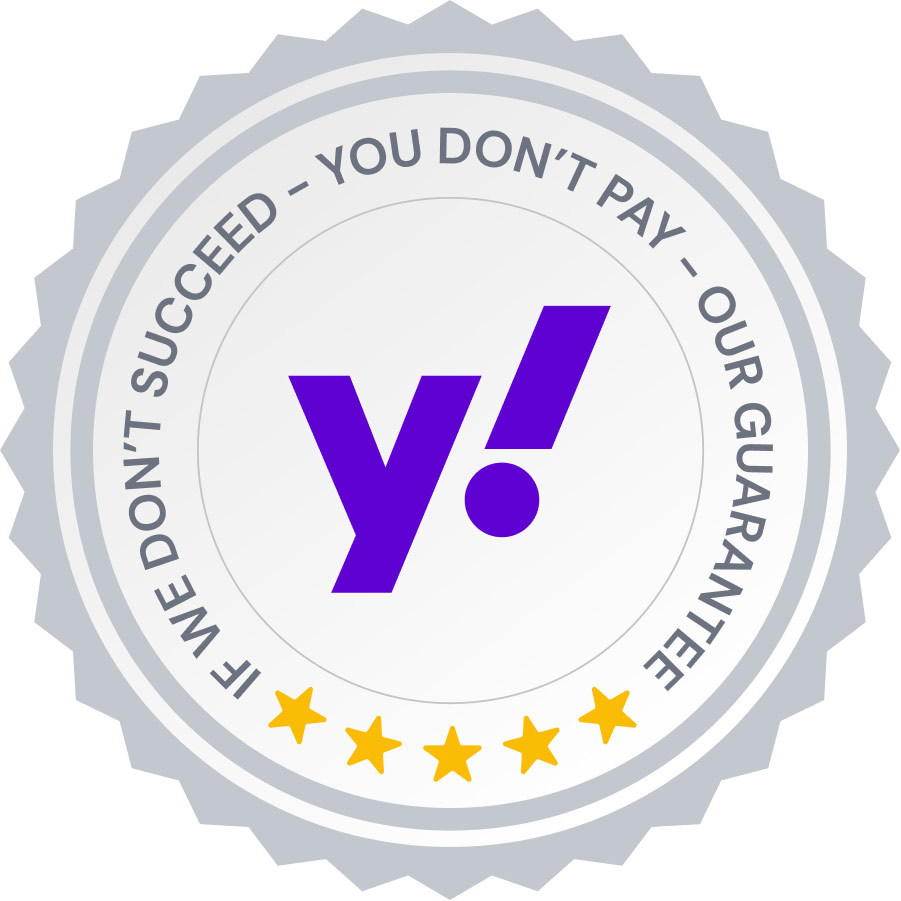 Based on 160+ reviews
John Anderton

Shout out to the team at Removify. In 2 weeks they removed some fake Google reviews that we had unsuccessfully tried to get removed for a year. Thank you!

Lyn Jolly

Hugely appreciate how Removify were able to have a review removed that was posted against our business that did not relate to us. Great job!

James Tan

Such an awesome team! They got our negative review down within 12 days. A great reference for my Singapore business community! Professional service Removify provide. Thank you Removify.

Adam Sturt

Removify were able to manage the situation fast and efficiently, they regularly updated us on the progress and successfully removed all false reviews. We cannot thank them enough.

Paul Zdzitowiecki

Removify, do exactly what they promise. They removed a illegitimate review on our google my business page. Service was excellent and the portal easy to use.

Ross Kinsella

Great job in removing a fake google review. Easy, minimal work required by myself and overall great job.
Join 4,500+ businesses taking control of their reputation